Johannesburg Table Football Club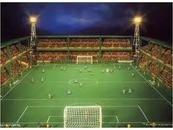 Johannesburg Table Football Club
For pure table football enjoyment, action, goals and lots more join the Eagles now!!!!!!! Established 2007
News Report
Monthly Newsletter
Author: Clifford Graaff, 28/03/16
Easter 2016
Let me first wish all our members and friends a belated blessed Easter - I trust you all had a peaceful and restful Easter holiday and did NOT over-indulge with the chocolate Easter eggs!!!!!!
The subbuteo season has started off at a cracking pace with 8 completed tournaments. Our club has hosted 3 tournaments, Cape Town City TFC has also hosted 3 tourneys and Pretoria Flickers 2 tourneys.
The above 8 tournaments have seen a collective number of 40 ranked players which have earned SATFA (South African Table Football Association) Ranking points. These SATFA points are earned on the individual results and increased on the higher number of participants playing in the respective tournaments. All our local players are also awarded WASPA (World Amateur Subbuteo Players Association) world ranking points. Our national body SATFA (South African Table Football Association) are also awarded ranking points based on the number of participants and ranked players on an individual basis. These individual and team rankings will be posted on this website under the following: 'JOBURG EAGLES – RANKINGS'. Once the latest March rankings have been received from WASPA, a summarized version highlighting our local players will be posted on this site.
Panorama Sports Club recently held the first Gauteng 'JUST FOR YOU MEALS' Super Series event which proved to be a great success. A field of 10 players, 4 novices, flicked their way to an exciting afternoon of table football fun.
The annual Johannesburg Challenge, the oldest tournament in South Africa, was also recently hosted at Panorama Sports Club with a record turnout of 20 players. It was also symbolic that the first Gauteng Inter Club Championships was held at this historic tournament. The Joburg Eagles proved victorious by defeating their Pretoria Flickers counterparts by a final score line of 3 games to 1 over a double round of fixtures. This new innovation proved very exciting and further games will be played amongst the Eagles and Flickers.
The next tourney will be the Pretoria Open on the 23rd of April, hosted by the Pretoria Flickers at a venue still to be confirmed. This will also be the second series event in the JFY Meals Super Series.
A special sales page will also be introduced to our website under the following: 'JOBURG EAGLES – SALE ITEMS'. Various items will be on sale and if any member has any sports related item to sell, please contact Clifford on c.graaff@vodamail.co.za.
That is all for this month – keep on flicking and see you on the tables!!!!!
Follow the league to get the latest news and results straight to your email